Die weltgrösste Craft-Bier Brauerei und Punk-Bier-Marke BrewDog ist bekannt dafür, anders zu sein. Speziell im Klimaschutz ist das schottische Unternehmen ein Vorreiter und bewirbt dies mit riesigen "F*ck You CO2" Schildern. Die Werbeaufsicht ASA stört sich an dem Wort "F*ck" – was uns doch direkt an das Vorurteil der steifen Briten erinnert – und verbietet die Schilder kurzerhand.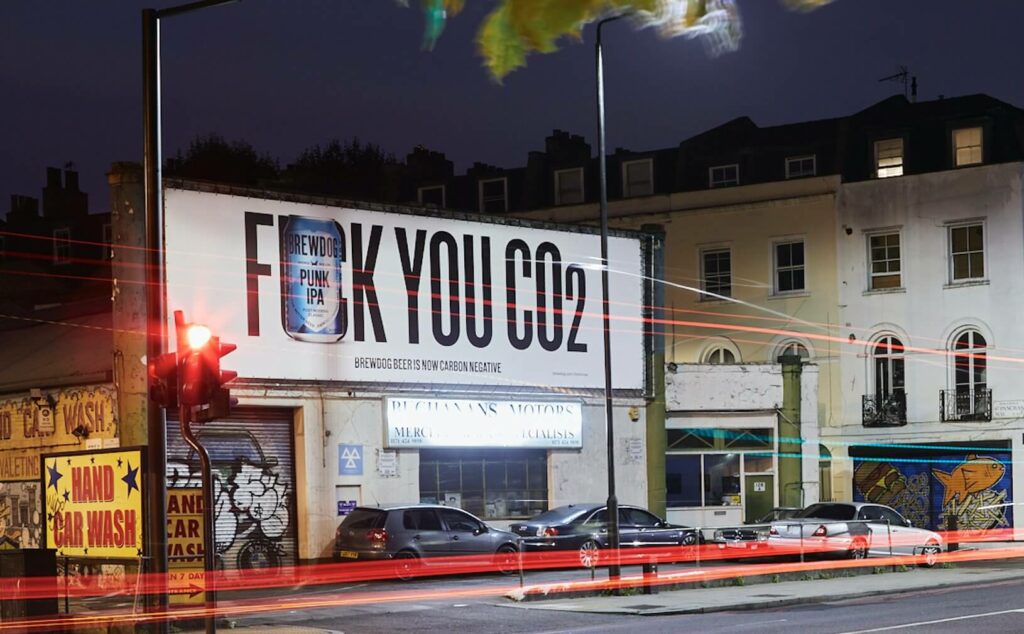 BrewDog als steife Briten zu bezeichnen, könnte nicht weiter von der Wahrheit entfernt sein. Die Brauerei ist anders und innovativ, das Unternehmen ist ein Vorbild in Sachen Nachhaltigkeit und fällt immer wieder durch spannende Kampagnen und Aktionen auf. Das führt dazu, dass man immer wieder mal mit der britischen Werbeaufsicht ASA zusammenrasselt. Vor Jahren schon störte sich die ASA an dem Wording auf der Firmen-Webpage. Die Antwort von BrewDog? "Those mother fu*kers don't have any jurisdiction over us." Letztes Jahr störte sich die ASA am Slogan "Sober as a Motherf*cker", mit dem Werbung für alkoholfreies Bier gemacht wurde. Die Antwort seitens BrewDog war fast dieselbe.
Die ASA untersuchte, ob die Kampagne anstössig und ungeeignet für die Darstellung auf einem Medium sei, das von Kindern gesehen werden könne, nachdem 25 Beschwerden eingegangen waren. Die Beschwerden betrafen die Plakat-Standorte Glasgow, London und Newcastle, sowie Anzeigen in den Zeitungen "Metro", "The Week" und "The Economist".
BrewDog erklärte, man habe Schritte unternommen, damit Kinder der Anzeige möglichst wenig ausgesetzt sind, beispielsweise indem man die Aussenwerbung nur während den Schulferien schaltete. Auch ist die Mitte des Wortes "F*ck" mit einer Bierdose verdeckt. Trotzdem entschied die ASA, dass "das Wort 'F*ck' ein allgemeines Publikum so wahrscheinlich beleidigen würde" und nicht im öffentlichen Raum erscheinen sollte. Auch in der Gratiszeitung "Metro" wurde die Anzeige verboten. Die anderen beiden Titel dürfen sie weiterhin drucken.
Not amused war BrewDogs Mitbegründer James Watt. "Today the Advertising Standards Authority banned our activism advert. The ASA can go f*ck themselves. We are in the midst of an existential climate crisis. Thank you to the Metro, The Week, The Economist and billboard sites for understanding the importance of our carbon negative campaign."
Wie Campaign berichtet, sprachen Watt und Mitbegründer Martin Dickie am Montag auf der Altcop, einer von BrewDog unterstützten Veranstaltung, die als Alternative zur COP26 (der Klimakonferenz der Vereinten Nationen) ins Leben gerufen wurde.
Sophie More, Marketing Director bei BrewDog, erklärte, die kohlenstoffneutrale Strategie entspringe der Überzeugung, dass "es nicht mehr ausreicht, kohlenstoffneutral zu sein, und dass Unternehmen einen positiven Einfluss auf den Planeten haben sollten". Mit der Kommunikation ist es wie mit Bier-Sorten, man kann nicht immer den Geschmack von jedem treffen. Jedoch ziehen wir vor der Klimapolitik von BrewDog den Hut und sagen in diesem Sinne: Cheers.