Der weltweit grösste Craft-Bier Produzent BrewDog gab unlängst bekannt, dass seine Mitarbeiter bald alle klimaneutral sind. Man sei der erste Arbeitgeber weltweit, dem dies gelingen werde. Das Unternehmen fährt somit eine Marketingstrategie, die den Brand als Beispiel für Nachhaltigkeit positioniert – und damit den Zeitgeist trifft.
BrewDog nutzt die App Pawprint, mit der die Mitarbeiter jeweils den eigenen CO2-Fussabdruck kalkulieren. Das Unternehmen berechnet den Fussabdruck seines gesamten Teams und wird jedes Jahr doppelt so viel CO2 aus der Luft entfernen, wie das Team verantwortet. Dies geschieht mit Hilfe der aktuellen Projekte zur CO2-Entfernung, die der Craft-Brewer mitfinanziert sowie dem BrewDog Forest, einem 830 Hektar grossen Areal in Schottland. Die Brauerei pflanzt dort Bäume, um CO2 aus der Luft zu entfernen.
Die Brauerei sei stolz darauf, eines der ersten Unternehmen zu sein, das den CO2-Fussabdruck seiner Mitarbeiter kompensiert, so BrewDog-Mitbegründer James Watt.
"Our commitment to sustainability is an integral part of our business across our entire operation, and means BrewDog both as a company and as individuals are having a massively positive impact on the planet and helping drive the change that our world so badly needs."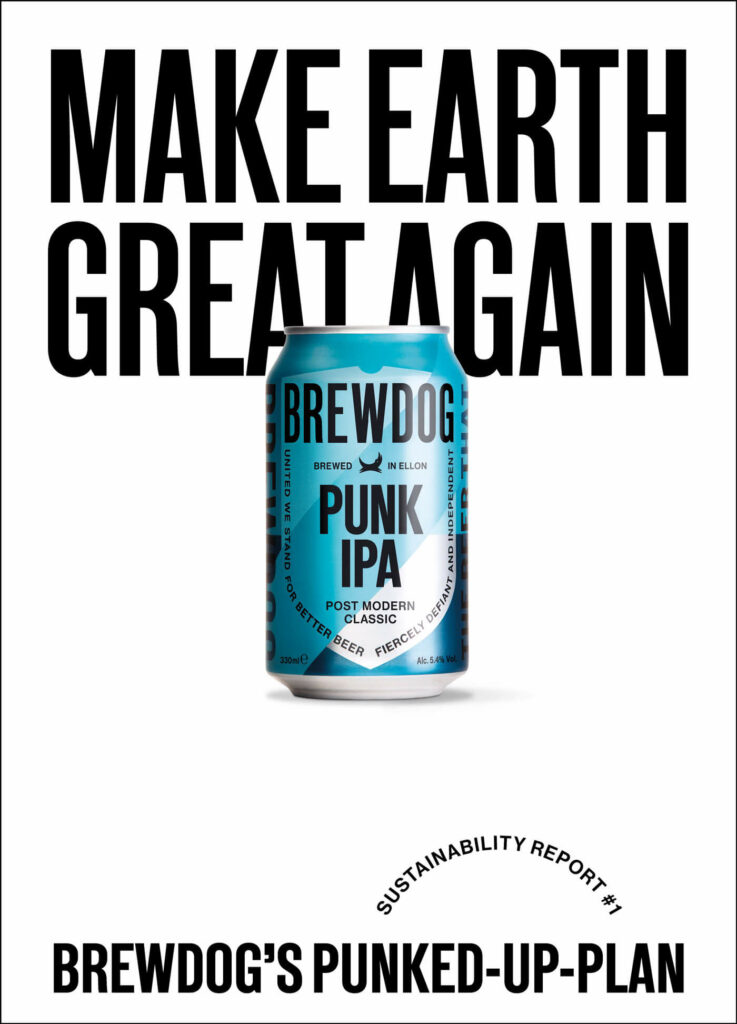 Während viele Unternehmen wegen Greenwashing in der Kritik stehen, investiert BrewDog in ein echtes grünes Image. Zusammen mit Aldi England konnte ein weiteres Projekt realisiert werden, welches dem Klimaschutz zugutekommt. Der Craft-Bier Produzent hat seit längerem Kultstatus, dem "Punk IPA" Bier sei Dank. Mit Projekten wie diesen wird man diesen Status zementieren und als Vorreiter weiter für Schlagzeilen sorgen.